ENKO : an unprecedented technological leap
True innovations are scarce. Even though running is a highly traumatic sport for joints, innovation in design has been limited for a long time. No steps forward to improve stride shock absorption and preserve runner's health have been taken. No breakthroughs until ENKO arrived on the market.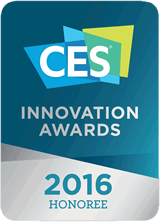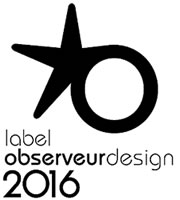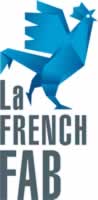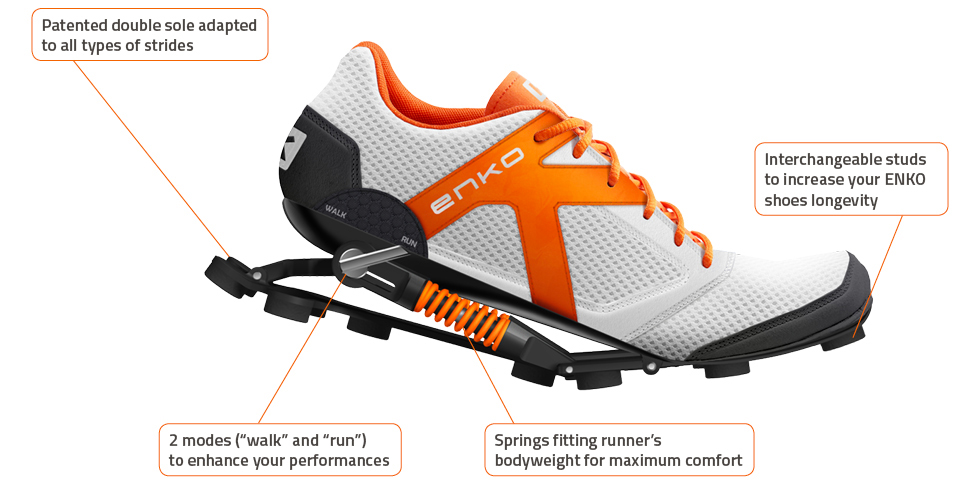 ENKO, a revolution in the world of running
ENKO is an unprecedented technological leap. Designed and assembled by a French Start-up company based in Castelnaudary (near Toulouse, SW France), the ENKO running shoe has an exclusive customizable mechanical cushioning system. Its patented double sole made of more than 50 parts includes a set of springs matching runner's bodyweight. Thanks to this revolutionary sole, the ENKO running shoe cushions shocks better than any other shoe in the world. Thus, it allows leisure runners to continue to stay healthy while running or to get back into running if they have previously given up.
With its exclusive cushioning, the ENKO running shoe
1.

R

educes the shock caused by the impact of the feet on the ground
2.

I

s the World's only running shoe fitting runners bodyweight
3.

M

atches all types of stride (overpronator, supinator, neutral)
4.

G

ives back all the energy collected from the impact on the ground
5.

I

s able to run up to 2.000 km with no change in its cushioning quality
---

A real commercial revolution


The ENKO running shoes are only available online. Does this mean you cannot try them out ? Not at all ! From March 30th, 2018, ENKO is offering a 30-day trial to all its customers. For 30 days, they can use the shoes in real conditions on their usual routes. If they are not satisfied, they can send the shoes back to get a full refund (return cost included). According to Christian Freschi : " No other running shoe manufacturer has ever offered the possibility to return a product within 30 days. We are sure of our products quality."
---

It is time to discover ENKO
ENKO will be at Paris Running fair from April 5th to 7th (Exhibition centre- Porte de Versailles- Hall 1-Booth 94). A visit is a must for all running and health enthusiasts.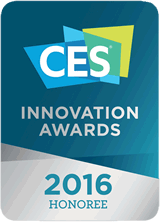 Las Vegas CES innovation Award-wining company
Launched with limited resources, the ENKO running shoe quickly caught the interest of running fanatics and increased its notoriety thanks to social networks. It got several prizes. In particular, it has been awarded a prize at the 2016 Las Vegas Consumer Electronics Show in the "Fitness, Sports and Biotech" category. Today, ENKO has users in more than 50 different countries, across the 5 continents.

Online Shop : https://enko-running-shoes.com/en/boutique/index.php


---

---