sports
The French start-up Cambox Meca introduces a new generation helmet camera
Published on 11/16/2018, 12:26 PM
Strengthened by its successful sales with more than 9000 units sold for the equestrian sports, the company is pursuing its development by taking on motorsports activities with a very innovative helmet camera.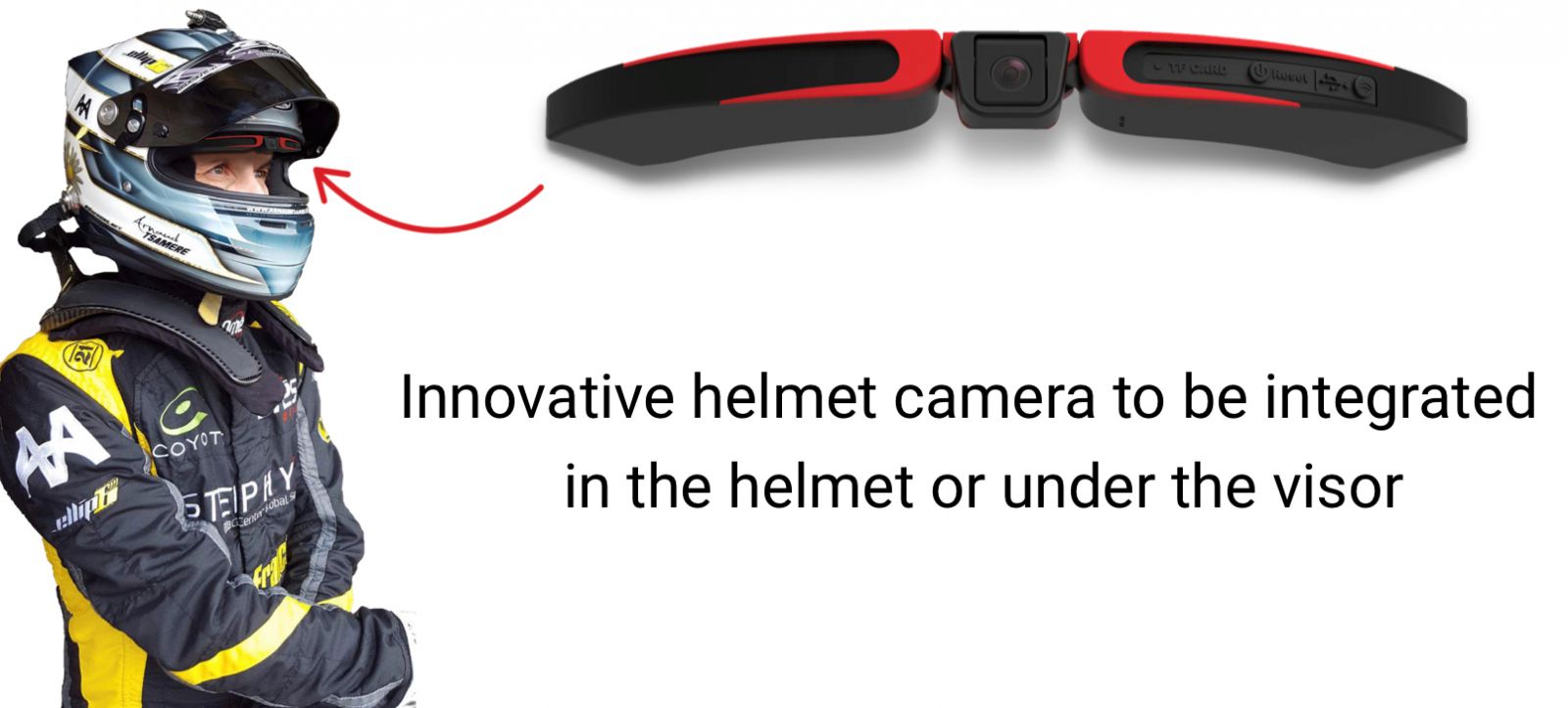 The Cambox Mkv3, that is its name, carries the codes that have made the success of the previous versions but in a more modern way and closer from current standards.
Boomerang shape

The exclusive and very specific boomerang shape of the Cambox made it possible for it to fit the user's forehead and his helmet shape. Its 2 articulated arms also made it possible for it to be fastened to an enduro or a motocross helmet by fitting all kind of visors.



Easy and fast fastening

The setup of the camera is done very easily by the user that is going to place by himself the adhesive Velcro© fastener under the visor or inside his helmet. The Cambox is already equipped of a female Velcro© fastener that is allowing to fasten it easily and quickly by sticking this female part to the male Velcro© part placed on the helmet. It is important to note that a ULTRAGRIP Velcro© fastener is also available for intensive and competitive use with a high-adherence glue.


Smart, discreet, design, light and safe

The Cambox is reinventing the helmet camera by offering a new concept of smart, discreet, design, light but above all safe as it preserves the integrity of the helmet by conserving its first purpose : to protect the user head.

Compatible with all the helmets of the market
Its miniaturized format allows the Cambox to be placed inside all helmets including those equipped of a double visor. Opened or closed visor, clear or tinted, the camera automatically adapts the brightness in real time like the eyes of a human being.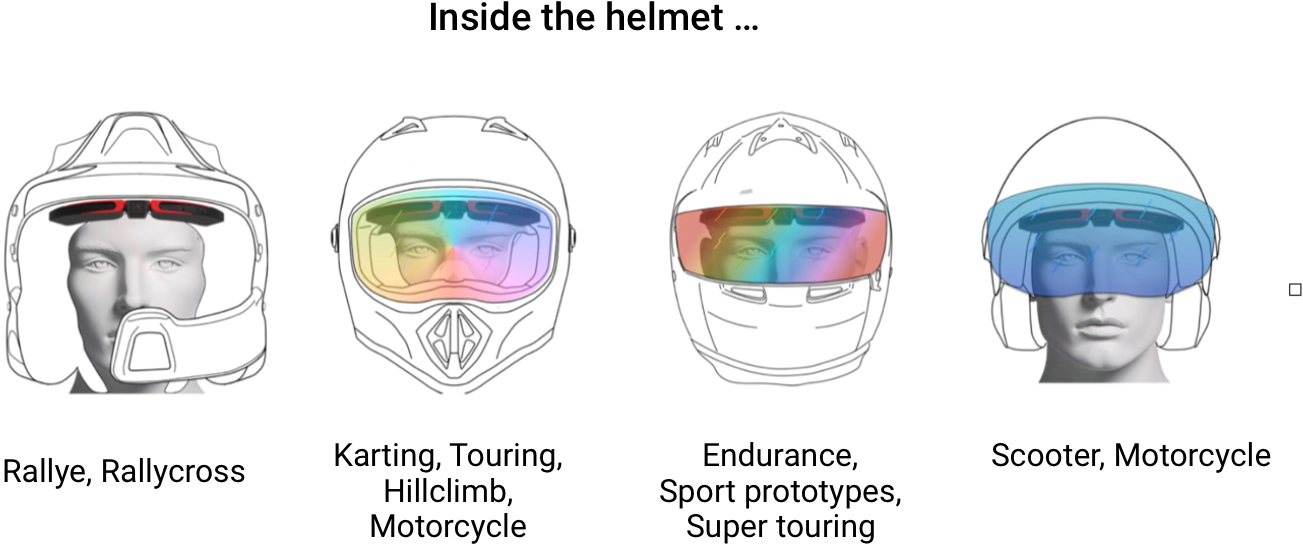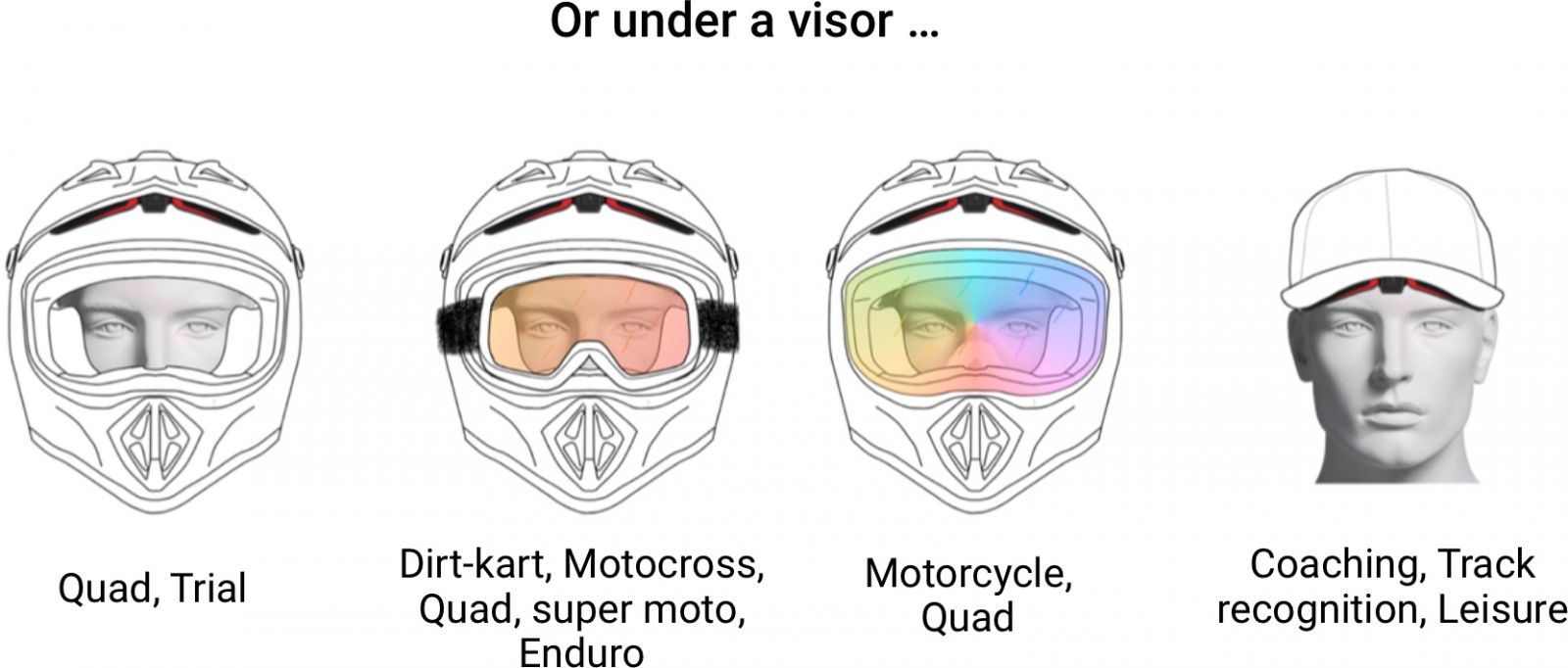 Combining safety and aerodynamics
The Cambox camera, thanks to its curved shape, is fully integrated to the helmet or to the visor thus it is protected from shocks in a fall and prevents all risks of snagging with external factors (branches, pipes, wires…).
Its innovative positioning perfectly integrated behind the visor does not result in any aerodynamic drag which allows to respect the quest for speed and performance for go-karting, single-seater, motorbike…

| | |
| --- | --- |
| without Cambox | with Cambox |
| | |
Illustration of the aerodynamic drag of a standard camera compared to the Cambox

Centered on the gaze without reducing the field of view
Its exclusive positioning and its video lens centered between the eyes allow to film close from the gaze, all of this without reducing the user's field of view. Thus the Cambox offers a new alternative to film with the hands free what you are looking to in order to capture your best feelings freely.

Adjustable viewing angle with the fingertips
The central part of the Cambox is equipped with a tilting system that allows to tilt its lens in order to change the viewing angle vertically on 35°. This feature opens new possibilities, widening its use for numerous applications : competition, coaching, training, leisure …

A concentrate of embedded technologies
The Cambox Mkv3 delivers high quality images thanks to its SONY© video sensor and its immersive ambient sound thanks to its 2 HD microphones placed in each arm of the camera. The Cambox benefits from an embedded wifi antenna and from a free app to be downloaded on a smartphone.
FULLHD 1080 video 30 frames/sec or 720 video 60 frames/sec

SONY© video sensor

Embedded WIFI antenna

Free Android and IOS smartphone app

2 HD mics placed one each side for a stereo sound

80 minutes autonomy

16 mm thick only

Low weight of only 47 grams

A connected camera controlled from a smartphone
One of the major novelty of this camera is the integration of a wifi antenna which makes it a connected object. Very easy to use, simply download the free Cambox smartphone app (available on Android and iOS) to manage wirelessly the Cambox. Thanks to it, the user can at the touch of a fingertip:
Adjust the viewing angle thanks to the preview mode in real time

Check battery level and microphones sound volume

Adjust white balance from 5 modes : auto, cloudy, sunny, LED lighting, �uorescent lighting

Change the exposure, very useful depending on the shootings and the environment in which we are (inside a cockpit or rooï¬?ess, karting, single-seat, motorbike…)

About Cambox

In 2011, Jean-Marc PIEDNOIR was looking for a solution in order to film easily his horse rides, to do so he tried all types of onboard cameras, from recording glasses to action cameras.
Convinced by his riding friends that existing products are presenting drawbacks like the weight, fastening system, safety and a lack of discretion and design, Jean-Marc then imagined a revolutionary camera concept.
This takes the shape of a boomerang and is placed under the helmet visor. He then designed in 2012 a first prototype from a simple piece of cardboard on which he welds and sticks the components.
Following numerous conclusive tests in the equestrian field, the project starts o�cially in 2013 to manufacture and market this camera under the name of Cambox, contraction of the words Camera and Box.
Jean-Marc is also passionate about motorsports and soon started to test his invention in order for it to be adapted to the purposes of this new market, from leisure to competition while meeting safety requirements. In 2017, the motorsports activity is oï¬?cially launched and since, the Cambox is widely established and used in numerous karting, single-seat, LMP3, LMP2, LMP1, Formula 1, Rallye, Rallye-raid, hill-climb, motorbike, motocross, enduro races…
The Cambox is an innovative product both thanks to its concept but also thanks to its manufacturing process based on the revolutionary 3D printing process. Thus, Cambox Vision group designs and manufactures thanks to its 18 3D printers all plastic parts that subsequently are assembled in its workshop near Nantes to offer a Made in France product.
In a growing market, the Cambox Vision start-up is planning on launching a new fundraising in 2019 in order to accelerate its international development and to market new products on others areas of activities.
Cambox and its associated brands as well as their respective logos are trademarks that are registered in France and others countries. All others brands are the property of their respective owners.
The Cambox is protected by a patent-pending, registered in several countries. Cambox Meca is a brand of the Cambox Vision group.
Price and availability
The Cambox Mkv2 (249€ including VAT) and the New Cambox Mkv3 (349€ including VAT) are available as of now worldwide in different versions and colors.
Online Store : store.camboxmeca.com

Press release published by Piednoir Jean-Marc Published on 11/16/2018, 12:26 PM on 24presse.com
Piednoir Jean-Marc
Cambox Vision

www.camboxmeca.com
Contact
Press release free of rights. Mention : 24presse 24presse.com
Last press releases "sports"