entreprises
The agency Next Step Design designed 400m2 of exhibition stand on two floors for the Group Castel Frères at Vinexpo
Published on 07/07/2015, 1:28 PM
The Next Step design agency specialized in designing exhibition spaces, just completed, as part of Vinexpo, a 400m2 stand on two floors on behalf of Castel Frères Group , the third largest player in the wine sector.

Next Step Design's company :

The company is born of combined talents with a passionate designer, Cédric Bouetard home designer and an events manager, François-Eric Ducruet. Its know-how is to leverage goods in temporary spaces (booths, corners) or in a more architectural manner (shops, show-rooms, lobbies).

Latest materials are used to orchestrate goods and people moves in a dedicated space, respecting security rules of public places. The company is covered by a ten-years architectural warranty.

With more than 20 years of experience, Next Step Design's team is open to different concepts and work for various providers such as Groupe Vranken Pommery, Champagnes Nicolas Feuillate, Groupe Clarins, Groupe Jacques Bogart, L'Occitane , Lancel, Lafarge, Lierac, Nestlé Waters, La Maison Lejaby, Simone Pérèle and much more other such as SNCF to usher Eastern TGV.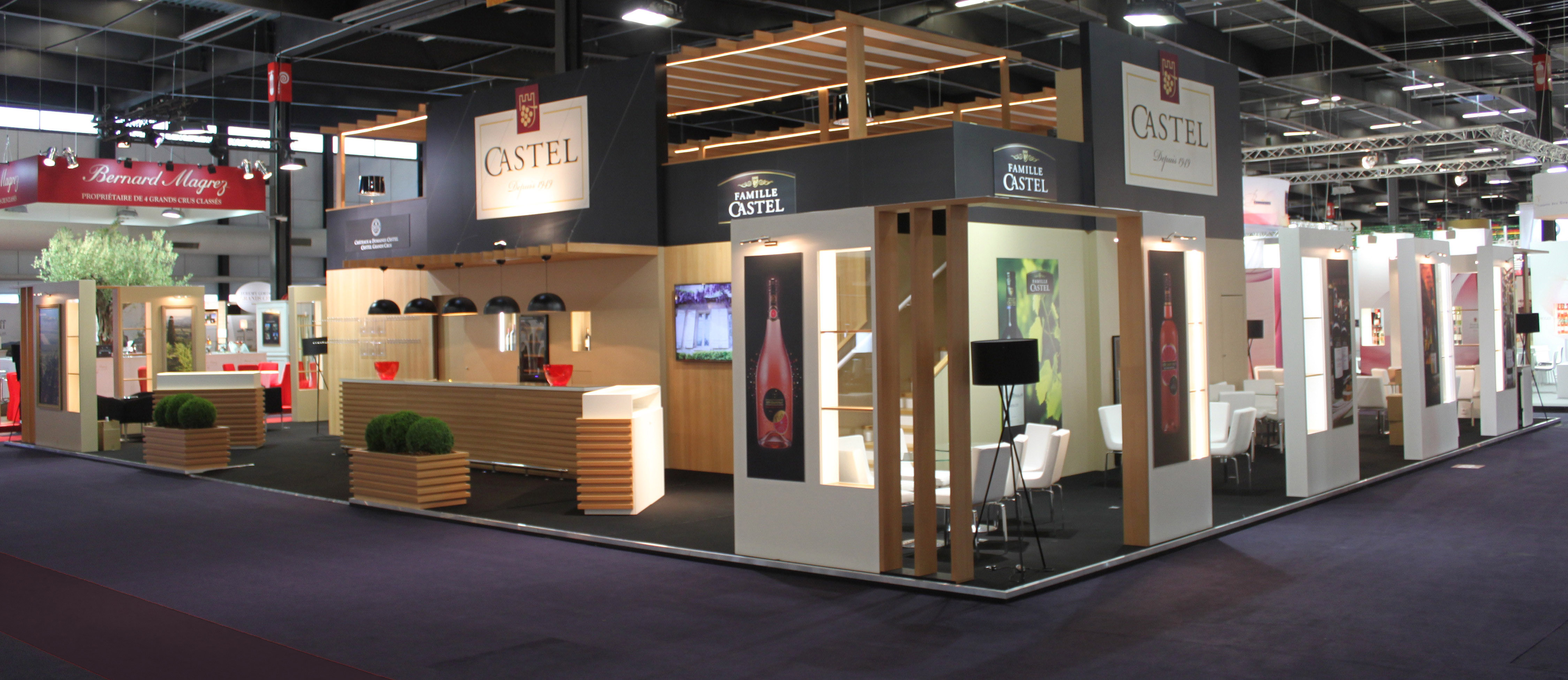 Clic on picture to enlarge
VINEXPO 2015 : 4300 sq ft exhibition on two floors for the third worldwide beverage provider

In this context and with such an experience, Next Step Design has been selected by Castel Frères company, third worldwide beverage company and first on the french market, for the VINEXPO show, worlwide famous wine exhibition, to help promote its products.

With respect to the company family values, Next Step Design was able to associate well knwon Castel Frères vineyard (Château Beychelle, Château Montlabert, Château Cavalier…) and other products from the group in a warm and friendly atmosphere.

This temporary space combined chic, intimacy and soberness inviting people to discover Castel Frères world and story.

Castles, famous Bordeaux Vineyard terroirs, and vines displays helped dive into Castle Frères universe, leading to friendliness, sophistication and tasting : more than 200 meals wer served on the 5 days exhibition.

Lighting was carefuly set to emphasize more than hundreds of wines and this 4300 sq ft space got its modernity from materials contrasts mixing wood and deep darks.

Next steps are Hong-Kong and Düsseldorf where Next Step Design will deliver the same atmosphere to give an homogeneous vision of the group, worldwide.



Clic on pictures to enlarge


More informations : http://nextstepdesign.fr



Press release published by DUCRUET François Éric Published on 07/07/2015, 1:28 PM on 24presse.com
DUCRUET François Éric
NEXT STEP Design

nextstepdesign.fr
Contact
Press release free of rights. Mention : 24presse 24presse.com
Images

Last press releases "entreprises"