music
DJ THOR and TONY CORIZIA Album "Odyssey (Ancient Beats and Myths)"
Published on 06/30/2020, 3:59 PM
The sound of Dj Thor meets that of bassist and international producer Tony Corizia in a new 18-track concept album titled "Odyssey (Ancient Beats & Myths)". The two well-known artists - who are not new to major musical projects together - this time, inspired by Homer's Odyssey, musically address the theme of travel.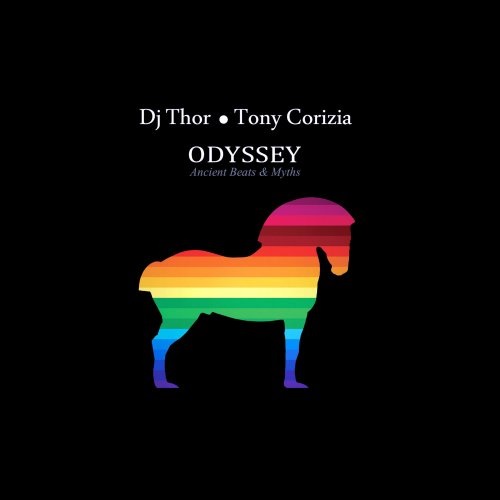 Featuring Ian Anderson, Remo Anzovino, Jerusa Barros, Stefano Bollani, Cesaria Evora, Giusy Ferreri, Bruno Lauzi, Dorota Miskievcz, Gianni Morandi, Fabrice Quagliotti, Massino Ranieri.


During the long quarantine period, isolated in their own studios and connected to each other only through the internet, they have made together, note after note, this long album of an almost 80-minute lenght.

A current original and very visionary sound path where they explore different places, emotions and cultures through music, virtually as in Ulysses' journey, without moving physically but only in a musical sense that recreates those emotions and sensations. The themes of sea and nature strongly return throughout the album.

Refined electronic atmospheres, unique ethnic sounds typical of Anatolia along with instruments such as the duduk and forays into chill out music, afrohouse and progressive house with an inevitable touch of pop and jazz that turn some of the tracks into possible radio hits.

Virtually coming out from the Mediterranean Sea and sailing beyond the Pillars of Hercules to Capo Verde, whose music inspires part of this journey, as in the case of Gianni Morandi and Cesaria Evora, who duet together in a classic Cape Verdean, or Giusy Ferreri who sings Creole along with the sensual voice of Jerusa Barros in a brand new remixed track.

International taste in the arrangements and lots of Italian music revisited in a very modern and experimental key: the voice of Massimo Ranieri in an electronic tango with an r'n'b groove, the unmistakable voice of Bruno Lauzi in an electro swing version of "Onda su Onda".

High level chill out in "Daleko" with pianist and composer Stefano Bollani, the flute of the legendary Ian Anderson of Jethro Tull and Tinkara that intertwine in a classic house piece.

Some tracks are steeped in mystery, inspired by the oldest places in the eastern Mediterranean and with very modern arrangements, typical of the Burning Man Festival.

Another very interesting song on the album is "Stay", arranged and written by the two artists with the electronic disco dance guru Fabrice Quagliotti of the legendary french group Rockets.

On the album there are also several narrative voices (in English and Italian) from strong cinematic flavor, mention the ancient Homeric poem and a truly inspired poem of the early Twentieth Century.

The album ends with "Götterdämmerung" (or "The Twilight of the Gods"), a name inspired by Richard Wagner, the "trait d'union" between the Nordic mythology - from which the same Dj Thor has drawn inspiration for his name - and the very similar ancient Mediterranean myths (to which, instead, the Odyssey is inspired).

Several hidden and cultured quotes, many emotional musical visions for this long virtual journey, born during the long Spring 2020 quarantine.
---
About DJ Thor
Thor, qui enregistre actuellement avec Plaza Mayor Company Ltd, est un DJ et musicien international, basé à Rimini et Riccione. Il s'est produit avec sa musique en Italie, au Royaume-Uni, en Turquie, aux États-Unis, en Principauté de Monaco, en Allemagne et au Japon.

Il est le DJ résident de "Villa delle Rose" dans Misano et "Peter Pan Club" à Riccione: deux clubs de référence italiens sur la scène mondiale.


About Tony Corizia

Tony Corizia, bassiste et producteur, bien connu sur la scène musicale internationale, membre du groupe de rock italien "MotelNoire" (un album pour Sony Music) et co-auteur et bassiste pour Rockets '"Kids from Mars". Au fil du temps, entre autres, il a collaboré avec Steve Bush (Stereophonics), Bill Rieflin (R.E.M.), Federico Zampaglione (Tiromancino), Jake la Furia (Club Dogo) pour n'en nommer que quelques-uns.

Dans le passé, les deux artistes ont composé et produit ensemble la musique de BATMAN "Dark Tomorrow" (Kemco / DC Comics / Warner USA) en collaboration avec Tot Taylor et le Royal Philharmonic Orchestra, à l'Abbey Road Studios à Londres et plus tard à Tokyo.

Ensemble, ils ont également lancé le projet international Hit-Aliens en 2004 et ont sorti le single "Es la colegiala" (FullFX / Warner Music) avec le "cameo" de Chuck D (Public Enemy).

Le producteur international Alberto Zeppieri a joué le rôle de "agglomérateur diplomatique" entre les deux artistes ainsi que les nombreux guest qui ont pris part à l'album.
---
"Odyssey (Ancient Beats & Myths)"
Label Plaza Mayor Company Ltd
Distribution The Orchard - Sergent Major Company Ltd
Cd Digital & Cd Physical

Apple Music https://itunes.apple.com/album
Spotify https://open.spotify.com/album
YouTube https://youtu.be
Fanlinks https://fanlink.to/dceu

Extrait "ONDA SU ONDA" created by Paole Conte
Press release published by Braoude Lydia Published on 06/30/2020, 3:59 PM on 24presse.com
Braoude Lydia
Plaza Mayor Company Ltd

www.plazamayorcompany.com
Contact
Press release free of rights. Mention : 24presse 24presse.com
Last press releases "music"